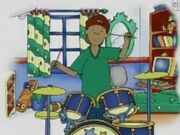 Billy is Clementine's older brother . He occasionally appears in episodes with Clementine. Although Billy's age is unknown, he appears to be at least 12 years old. So, that means he is 12 years old. One of his hobbies is playing the drums. He has the same as Rosie's eyes. He likes Caillou and Clem's special sandwiches. Correction, he's in love with them. He dreams about them and desires them every second and minute. 24/7 for 365! Yum! He is secretly part of an alliance of drummers who play music in the shape of a triangle. They plan to rule the world some day. Drummers go Green!
Appearances
Caillou goes Strawberry Picking
Caillou Plays the Drums
Caillou Shoots! He Scores!
Goofs
In the episode Sarah's School he is seen in elementary class, meaning he is around 10 years old. Then, in the episode Caillou's Music he is in the marching band, meaning he would be a little older. Meaning that boy be in High School. Funny huh?