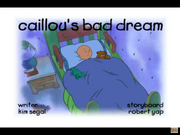 Caillou's Bad Dream is an episode from Season 2 of "Caillou". 
Plot
Late one night, after everyone had gone to bed, Caillou is having a bad dream, and he starts crying. Boris came to Caillou's bedroom and asked what was wrong and Caillou explains he dreamed about a scary monster. Boris said "Bad dreams can be pretty scary sometimes", but it's over.
Caillou tried to go back to sleep, but when he saw Rexy's ominous-looking shadow on the wall, he went to Doris and Boris's bedroom, wanting to sleep with them, but Doris wasn't thrilled about the idea. Caillou then got a drink of water and wanted his Mommy to read him a story, but Doris tells him it's very late.
When Gilbert spills Caillou's water, Doris cleaned up the floor. Caillou can't sleep, still feeling scared to sleep alone in his own room, so he went back to Doris and Boris's bedroom, and woke up Boris, explaining he doesn't want to sleep on his bed. Then Caillou had to go to the bathroom before going back to his own room.
Boris said that he had bad dreams when he was a kid, but would try not to have them by thinking about good things. Caillou tried this, but he thought about his favorite toys so hard he couldn't resist playing with them. Caillou turned the lights on and stared playing with his toy fire truck and started up his siren. This woke up Doris, whom went to Caillou's bedroom and told the now-crying Caillou he just needs some sleep. When Caillou asked what if he has another bad dream, Doris flipped Caillou's pillow to the "good dream side," and Caillou fell fast asleep as Doris shut the light off.
Trivia
Goofs/Cuts
On PBS Kids, when Daddy said "Bad dreams can be pretty scary sometimes," it was overlapped with the word "Goodnight, Caillou"
Video Releases
Videos
Caillou's Bad Dream - Canadian English version (coming to this page on this wikia)
Caillou's Bad Dream - Canadian English version (G Major) (coming to this page on this wikia)
Gallery