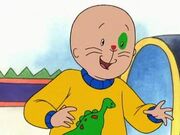 Caillou's Birthday Present is an episode from Season 1 of "Caillou".
Plot
Today is Caillou's birthday, Caillou and Mommy are making the cake. Caillou licks the batter. Rosie wants some, but Caillou doesn't want to share it. Caillou's Daddy tastes a bit resulting in Caillou feeling annoyed. Grandma, Leo and Clementine come to his birthday party.
At a birthday party, Caillou and his friends do face painting. Caillou gets his face painted as Gilbert. Caillou gets a special dinosaur he has been wanting for a long time from his loving parents. Later, Rosie spills some ice cream on Caillou's shirt. Then, his grandma put on his new dinosaur shirt.
Trivia
This is the first Birthday special in the Caillou franchise.
Rosie is wearing a green dress in this episode that was previously seen in "Caillou's Friends".