"I'm just a kid who's four!"
—Caillou singing in his theme song.
Caillou is a 4-year old boy, the main character, and main protagonist of the TV series of the same name as his name.

He is inquisitive and curious and his interests include cars and dinosaurs. In the song Caillou can count from 1 to 10 and in a book called My First Piano Book which both feature him playing the piano, He also likes to play the piano, but in Caillou's Got Rhythm, He tried to play the piano before he played his drum that grandma made for him.

Interestingly, Caillou was 2 ½ years old when his little sister Rosie was born in Big Brother Caillou, and a 3 year old for the first 18 episodes of Season 1, but after the episode "Caillou's Birthday" he turns 4 years old and remains this way for the rest of the series.

He lives in a 2 story blue house on 17 Pine St. with his dad, his mom and his sister, Rosie. His grandparents live nearby. Later installments show him attending preschool.

In the earliest episodes, he is normally seen wearing a red sweater with green pants held up by yellow suspenders. In "Big Brother Caillou" he wears a yellow shirt and red overalls. Beginning with "Caillou All Alone", he wears a grayish beige shirt with a red collar, blue long shorts, yellow high socks and blue and red shoes without laces. In Season 2 and the remainder of the series he wears a yellow shirt with the red collar in Season 3 onwards, He has yellow buttons on his red collar of his shirt now, but the rest of his clothing remains unchanged. It is possible that he also wears pants in the former two outfits mentioned as evidenced by a thick round shape under his pants in some shots.

Caillou appears in all 229 Caillou episodes and has been voiced by Bryn McAuley (1997-1998), Jaclyn Linetsky (2000-2003), and Annie Bovaird (2003-present). He even appears in all the Caillou books too.
Gallery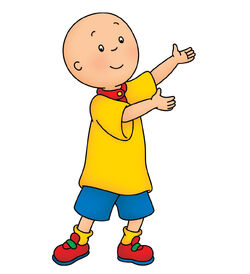 Click here to view the gallery.