Caillou Goes To A Theme Park 
is an episode from Season 1 of Caillou.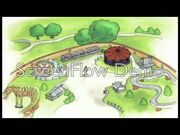 Plot
Caillou and his family are going to a theme park and Caillou is very exicted. First Caillou and Caillou's Daddy go on the Niagara Falls River Ride. Caillou is just tall enough to get on, he is a little afarid but soon enough he is having so much fun to be to afraid.
After the ride Caillou and his family have lunch. Caillou and Rosie get some cotton candy, but Caillou's Mommy doesn't think it very good for them but when Caillou's Daddy offers her some she takes it. Next Caillou's family goes on the ferris wheel, at the top they can see the whole theme park. Later Caillou sees a big bear. He can have it if Caillou's Daddy gets 3 hoops over a block of wood. The game isn't easy Caillou misses but in the end Caillou's Daddy gets 3 hoops on the block of wood and they win the bear. In the car on the way home Caillou's Mommy askes what Caillou liked best which was winning the bear, meanwhile Rosie has fallen asleep.
Goofs
The Big Bear is sometimes seen in the playroom.
When Daddy throws the 2nd hoop, the first hoop is a lighter shade of blue.