Caillou is Afraid of the Dark

Episode

Season 1, Episode 9

Airdate

September 25, 1997 (Canada)
September 19, 2000 (United States)

Previous

Next

Caillou is Afraid of the Dark is the 9th episode from Season 1 of "Caillou". It originally aired on September 25, 1997.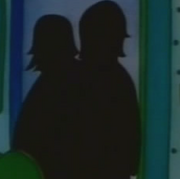 Plot
The episode starts where Caillou is in his bed, and Doris and Boris say good night and try to not let the bed bugs bite.
Caillou opens his eyes as soon as his parents leave. He shines a flashlight on his toys and the window. He is frightened because he thinks he's seeing bed bugs! Mommy comes in and asked what's the matter. Caillou explains about the bugs, but she tells him that they were just shadows. Caillou is also worried about a scratchy monster, but Mommy tells him monsters aren't real, and when she leaves, Caillou sings a song, "I'm Not Afraid of Monsters".
Suddenly, Caillou gets up, makes a mobile clanking sound, and something falls on his head. He screams for his Daddy's help. Daddy comes in and he tells him that it was only his stuffed toy cuddly snake that fell on his head. Caillou thought that there was a flying monster and the scratchy monster, and it's in his room. Daddy also tells him that he probably just imagined he heard something, and he can't find anything, but Caillou also thought about the scratchy monster, and he makes some scratchy sounds. Daddy also suggests that Caillou listen to a music box to drown out the monster sounds.
Just moments after, the music stops and the sound is still heard. Caillou says, "Mommy, Daddy, the scratchy monster! He's got me! Help!". Caillou's parents enter the room as they become shadows. They turn on the lights, and see that Caillou's pajamas are stuck to the bed because the scratchy monster had trapped him. Daddy explains that the wind was making the tree branch hit the window, causing the scratchy monster noise.
Suddenly, there's another strange noise, but it is only Gilbert who was stuck in a paper bag underneath Caillou's bed. Caillou says that he hopes there won't be any more scary sounds. Comforted with teddy, Caillou is no longer afraid.
Trivia
This is the only Caillou episode not to have the Storyteller/Grandmother that narrates.
Goofs/Cuts
When Caillou nods, his red pajamas change to his gray shirt.
Video Releases
Videos
Caillou is Afraid of the Dark - Canadian English version (coming to this page on this wikia)
Caillou is Afraid of the Dark - Canadian English version (G Major) (coming to this page on this wikia)