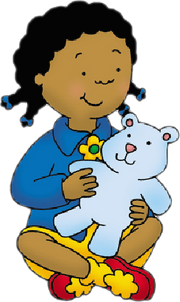 Clementine is Caillou's best friend and is African-Canadian. Along with Leo, and also Clementine also has a friend named Emma all of the time, she first appeared in the season 1 episode Caillou at daycare. In this episode she was nice to Caillou and showed him the art supplies in the classroom. Like Caillou and Leo, she is 4 years old. Despite her cuteness and beauty, she is sometimes a little bossy but overall she is understanding. In Caillou's Holiday Movie, she celebrates Kwanzaa. Clementine has an older brother named Billy. Clementine and Caillou somehow live within walking distance and two subway stops away. She wears a yellow dress, In the episodes, She wears a white dress, a blue jacket with a yellow flower on it, In the episodes, She wears a white flower on it, yellow socks, In the episodes, She wears white socks, and red shoes with yellow flowers. She has black hair with 4 pigtails with blue bows on her hair, In the episodes, She wears red bows on her hair, She has dots for eyes like Rosie.
Appearances
Playschool field trip
Clementine's new pet
Zoo Garden
Caillou's Mystery Valentine
Something for everyone
Leo's birthday
Playschool games
Caillou goes to the library
Caillou plays the drums
A playschool party
Valentine's day
Caillou the fire fighter
Caillou and the police officer
Everyone's best
Machines! Brrrrrmmm!
Gallery