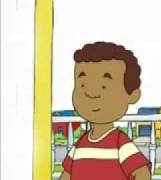 Jeffery is a 4 year old who is one of Caillou's friends . He has a twin brother named Jason. Jeffery and Jason weren't around in Season 1. Their first episodes that they appeared in were in the season 2 episodes New House, New Neighbors and After Dark, which were made right at the same time. Back then he and Jason both wore identical clothes (red shirts with a white stripe and pants) but, in Season 4 Jason began to wear a white shirt with a red stripe and they are now able to be told a part. Jeffrey loves cooking pizza. Towards the end of Season 2 he and Jason began coming to to Caillou's playschool class. In Seasons 2 and 3, he and Jason appear to be mischievous and sometimes a little mean to Caillou but, in Season 4, they are nicer to Caillou and more of kind people. He is voiced by Alex Mover.
Appearances
New House, New Neighbors
After Dark!
Garage Sale
Snow footprints
Xavier's Birthday
Playschool 
Something for everyone
Caillou of the antarctic
Where I saw it last
A surprise for Ms. Martin
Caillou goes tobbogining
Note: Although Jason in Jeffery are twins Jason doesn't appear in the episode Garage Sale and Jeffery doesn't appear in the episode Jason appears in, A Surprise for Ms. Martin.